Life is busy – especially when you're a new mother! Many of the best squishy, tingly 'I Love You' moments seem to get lost in the whirlwind of nappy changes, feeding and tidying. Don't you just wish you could write a love letter to your child to keep all of those beautiful sentiments safely tucked away for later?
But how do you write a love letter to your child, and where on earth do you find time?
Reading someone else's love letter to their child is a great way to get inspiration for putting your own thoughts down.
An inspiring letter to a new baby
I was wandering through Instagram a few months ago and found a beautiful letter a mama had written to her baby when she was born. Her words were lovely and reminded me why I designed the Love Letters to My Child baby book.
Deahna's letter to her little 'Gummy Bear'.
Our little Gummy Bear!
You are the love of our lives and from the moment you came into the world, you've brought a light with you that we didn't know was out.
Your daddy and I wanted to start something that we could add to over the years and give you the key to on your 21st birthday! So this will be that thing! We will send you letters, photos, videos and more throughout your life for you to one day log on and see your life's journey through our eyes.
We love you to the moon and back real slow Milla and we want nothing but the best for you and will do everything in our power to give you that.
As I write this to you, you're swinging in your rocker with the hiccups…one of the best sounds I've ever heard, second to the moment you entered this world and cried your little heart out.
Lots of love, Mummy and Daddy xo
Thank you for sharing your love letter to baby Milla with us Deahna. xx
4 Tips For Writing A Love Letter To Your Child
Now that you've read one mother's love letter to her newborn, you are probably feeling very inspired to start writing to your own little one. Here are a few tips to help you get started:
Don't be afraid to use lashings of 'love'
Even thought you may tell your child that you love them every day, reading it in writing can have an amazing impact and bring about different emotions. Use it freely and explore different ways to write it that you may not have the chance to share in daily conversations.
As an example 'My heart bursts with joy every time I look at you sleeping' (a beautiful way to say 'I love you' that you probably wouldn't say in general conversation).
If you need some more inspiration for words to include, a great article title 8 words every child needs to hear offers great starting points.
Short is sweet
While you probably have enough feelings and emotions to fill a novel, the thought of writing them all down could be daunting. There is nothing wrong with writing a few sentences or a couple of short paragraphs to capture your thoughts of love for your child. Knowing that capturing your thoughts needn't take a long time may help you to write them down more often.
Take inspiration from your own childhood
What did your own mother tell you that still resonates with you most today? Which words or phrases make you feel warm and fuzzy?
You may use different words with your own child, but recalling what stood out to you may inspire you.
The little things do matter
You don't need to wait for a big occasions such as a birthday or a milestone to put pen to paper.
Your child will appreciate your observations or thoughts on even the small things like that first time you danced together or how sweet it was when they picked up your hair brush and softly brushed your hair.
Most importantly, there is no better time than now to start writing.
Writing a beautiful love letter to your child doesn't require training or perfection, it requires you to be totally and utterly you, but in a written form. So, set aside five minutes today and reflect on what made your heart skip a beat. What is there to lose?
You can find more inspiration and thoughts starters on our Instagram page love.letters.to.my.child. You may also wish to read 'A mother's letters to her daughters' – a beautiful letter that one of our team wrote to her daughters.
How A Baby Book Fail Inspired The Grace Files Love Letters To My Child Journal
When my boys were very little, I wanted to create a baby book beautiful enough and worthy enough of holding the most valuable thing in the world – expressions of love between a parent and their child.
Unfortunately, I didn't produce the Love Letters baby book until my boys were much older. Now I have two very under utilised baby milestone books and I'm in catch up mode as I write to my boys in their new Love Letters to My Child journals. Better late than never!
An almost empty book with good intentions
When my boys were newborns, I bought each of them an adorable Winnie The Pooh baby book. Of course, I had every intention of recording their milestones as they grew. From memory, I completed three pages of Bailey's book, and only one page of Cooper's book (second child always misses out!).
Total fail. I'm not sure that the baby milestone books I had purchased ever fully resonated with me. Perhaps I could never see my boys ever looking through them when they got older because they were too 'babyish'. Whatever the reason, I still have them, but they remain largely empty.
A journal just feels right
What I am doing now, is writing to my boys in a Love Letters journal.  It's not a traditional baby book because it doesn't tell you what to write and when to write it, but in some ways it holds more of my heart because there isn't a template set out for me to complete. Because my boys are teenagers now, I spend time reflecting and remembering so I can write down as much as I can before they leave home. Note to others –  it's much easier for new parents to start when their child is born and write as their life unfolds rather than doing what I'm doing now! Deahna is a perfect example of starting 'at the beginning' and I hope her letter not only inspires you to do the same, but gives you ideas on where to start.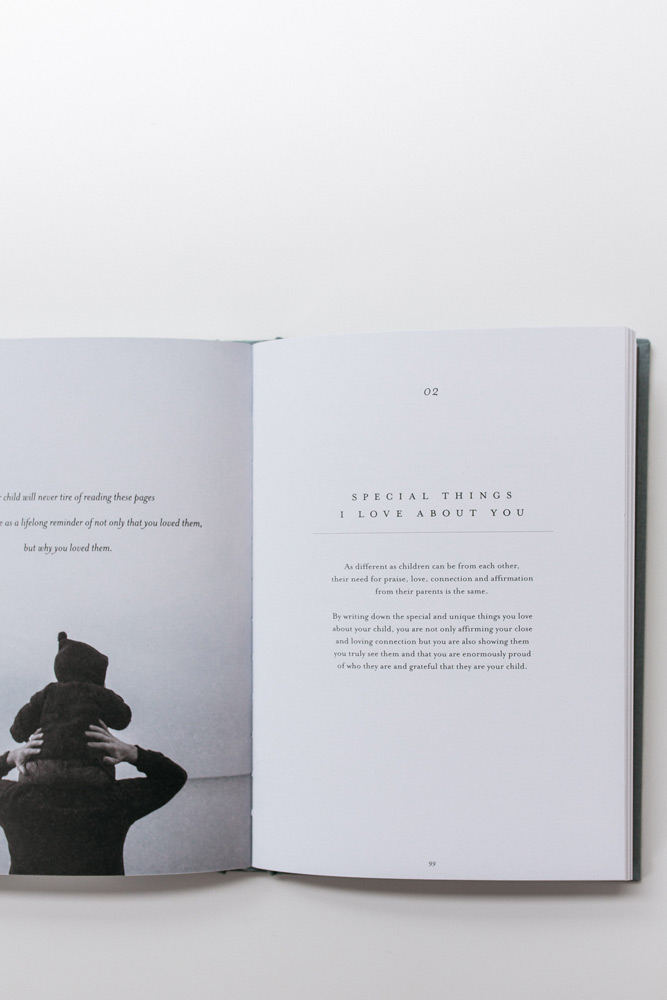 Reading someone else's love letters to their child can give you many ideas on how to write to your own child. Writing doesn't always come easily to everyone, but the intentional act of taking a moment and pausing every day, week or month to write to your child will provide them with a life time of memories to treasure long after you've gone.
We have also created a Love Letters to My Child Instagram page where we provide regular journaling prompts. Our hope is that this helps and gives you extra inspiration for journaling to your little one. Your Love Letters journal will only be meaningful if it is written in regularly.
http://www.instagram.com/love_letters_to_my_child
I was at a trade show recently and a lovely young man (I'm guessing late 20's) had a look at a Love Letters journal on my stand. He teared up and said he would have loved his mum to have written in one for him. I didn't ask, but I presumed his mum was no longer with him. It's moments like those when the power of the written word, passed from parent to child is so evident. Evident enough to make a grown man cry…which is actually, a beautiful and authentic thing. I'm guessing his mother would be very proud of him.