In a world of pre-made and pre-packaged, a little something that is home baked can feel like a warm hug. When someone you care for is going through a difficult time, turning up on their doorstep with a hug and some warm cookies is a beautiful way to show support in a very tangible way. Here at The Grace Files HQ we have a tried and tested cookie recipe that has been baked more times than I can remember and enjoyed with many cups of coffee along with open, honest, happy and sad conversations. There is a magical quality to these cookies…they bring people together, they are wholesome and we think they are the ultimate cookie to show someone you care or be given as a thoughtful gift to a new mum. We hope you will enjoy baking these for your family and those you care about too.
Now, we can't take any credit for this recipe – it comes directly from the kitchen of the talented Donna Hay. I have modified it slightly to suit my boys' tastebuds but ultimately, we think she created cookie perfection. The beauty of this recipe is that when you are making a batch of cookies, you can also prepare the dry ingredients for your next batch and store them in your pantry until you need them. It's as simple as having the right size airtight jar (I bought mine from Wheel & Barrow) and layering the dry ingredients into the jar, popping the lid on and storing it in your pantry until you next want to bake cookies. Then you simply take the jar, put its contents in a bowl, add the wet ingredients and mix. Simple as that and oh so quick – your cookies will be made from start to finish in 15 minutes. Brilliant!
Baking is love made visible.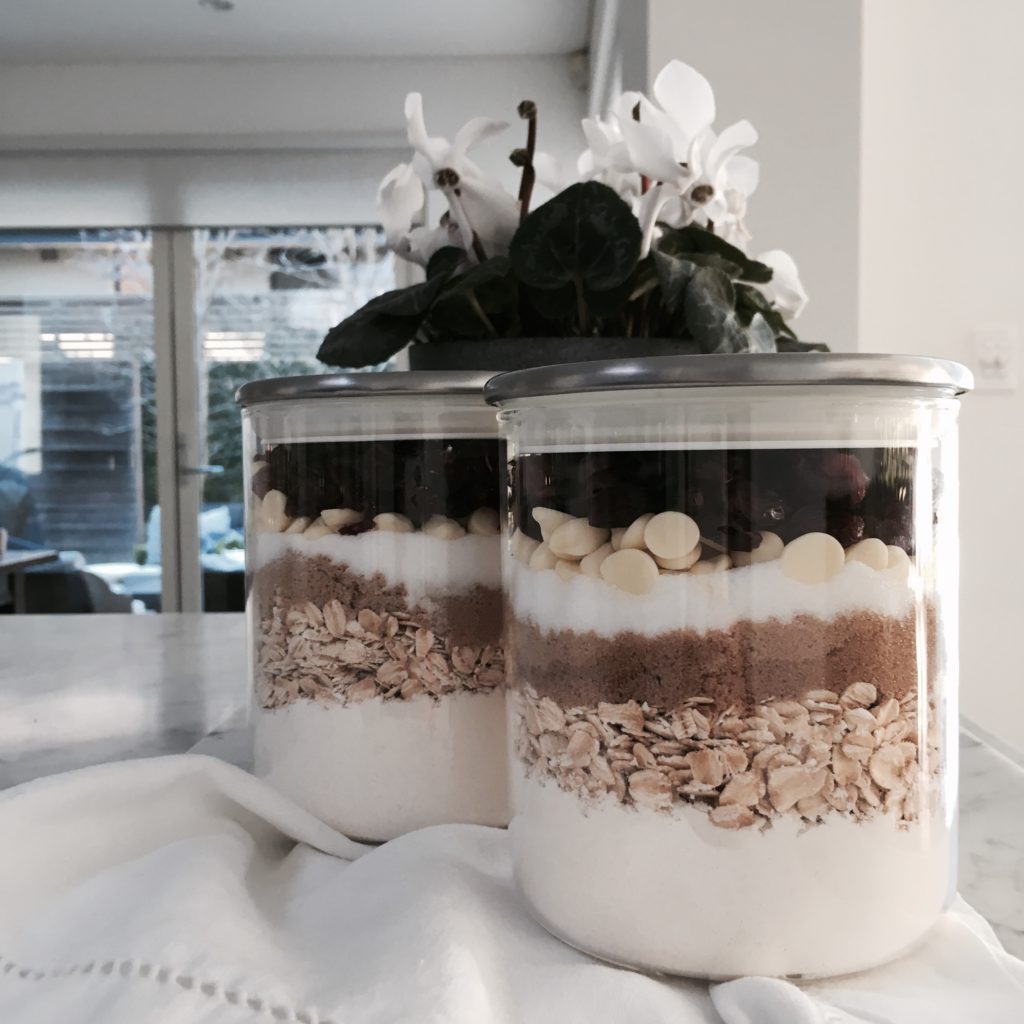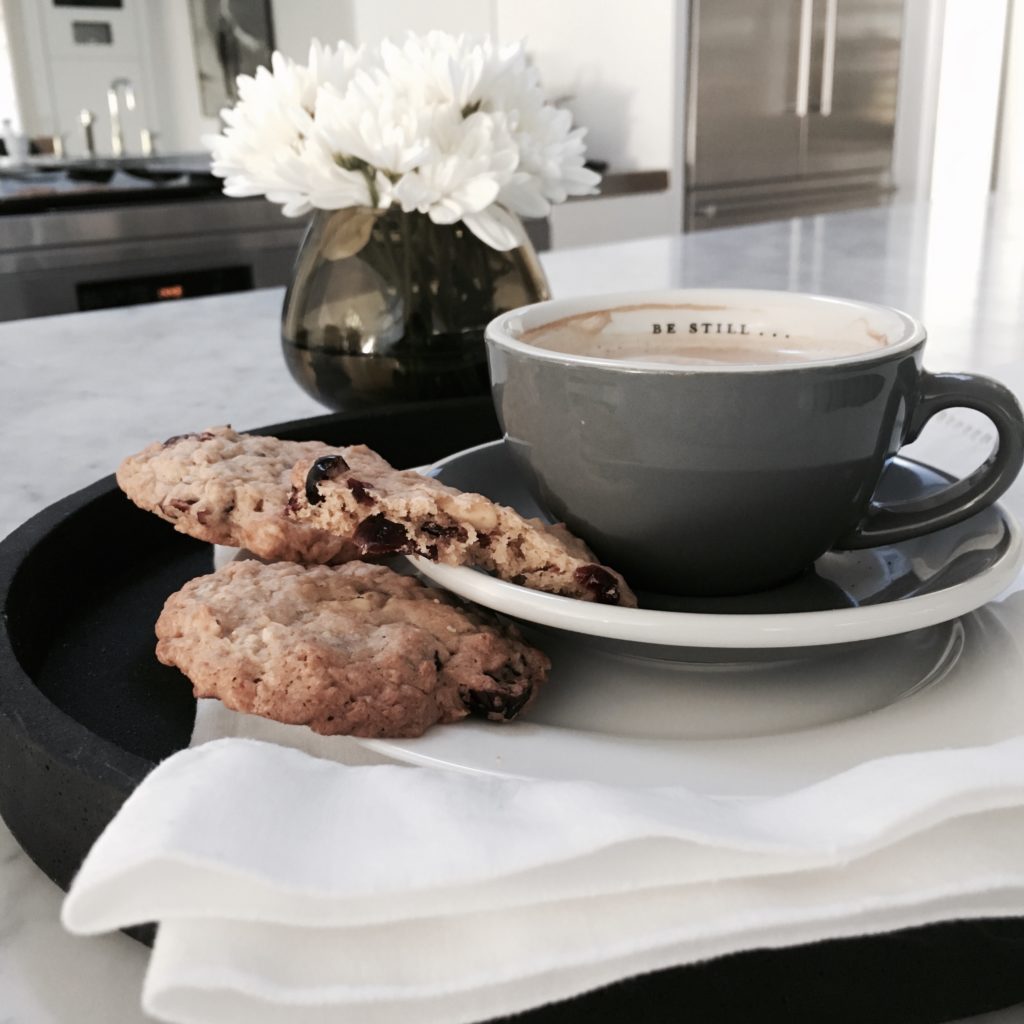 A thoughtful gift for a new mum
A pre-made cookie mix jar (along with the recipe attached) makes a beautiful and thoughtful gift for a new mum.
I made one of these jars for a friend who had recently had a second baby.  She was a very happy, but very tired mama – I'm sure every mother can identify with that feeling. She was also feeling like she wasn't able to do all the things she used to do with her other child.  Something as simple as a jar like this enabled her to bake with her daughter while the baby was sleeping, because it made the process so much easier.  It was such a small thing, but it was something that she and her four year old daughter enjoyed doing in the midst of adjusting to a second child being welcomed into their family. It really is an unexpected and thoughtful present for a new mum and her family.
Sometimes the most treasured gifts are not the most expensive gifts…
Ingredients
150g plain flour (I use white organic spelt flour – extra healthy!)
1/2 teaspoon baking powder
90g rolled oats
75g caster sugar
90g brown sugar
1 teaspoon mixed spice (Donna's recipe is 2 tsp but my teenagers prefer only one)
95g white chocolate chips (Donna's recipe calls for dark chocolate but we LOVE white chocolate so just use your favorite)
105g dried cranberries (we use the no added sugar variety)
Now…if you are going to make extra jars to store, here is where you stop. Layer all ingredients neatly in the jar, pop on the airtight lid and store in your pantry for use at a later date.
Method
Pre-heat oven to 180° C (or 350° F) and line two trays with baking paper.
Pop all the dry ingredients into a bowl and add the following:
115g melted butter
1 lightly beaten egg
1 teaspoon vanilla extract
Mix everything together then pop tablespoons of the mixture onto the trays. Flatten slightly and bake for approximately 10 – 14 minutes depending on if you like chewy or crunchy!
And to finish with a quote…
If the world is cold, make it your business to build fires.' – Horace Traubel
We think baking is the perfect way to build fires.
Hope you love this and share it abundantly with those you care for. Whether that be as a thoughtful gift for a new mum or a caring package for someone dealing with an illness.
Kindest,
Janelle xx
(full recipe credit to Donna Hay)