Having a baby is probably one of the most joyous times of life.  Having a premature baby however, is a mixture of joy and absolute fear.  Fear of the unknown – will my baby be OK, how long will we be in the NICU (neonatal intensive care unit), how will I manage when they come home?
Parents of a premie baby are confronted with an enormous amount of questions and an enormous amount of unknowns.
We have put together a list of gifts which are both helpful and thoughtful for the parents who have a premature baby.  Some babies are only a few weeks premie and others are a few months premie.  These gifts are suitable for any scenario and are a helpful and thoughtful way to celebrate the arrival of the baby.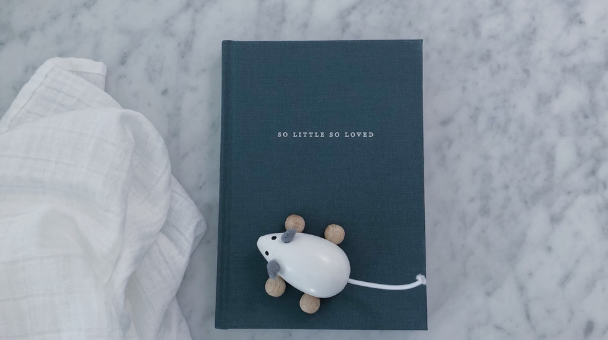 So Little So Loved journal – having a baby in the NICU can be an incredibly stressful time so having a place to write thoughts, love letters, daily progress, photos and milestones can be so therapeutic for parents.  Having a journal to look back on can be a beautiful memento to keep for a lifetime.  So Little So Loved.
Baby Wraps –  Gorgeous wraps such as our So Little So Loved bamboo and organic cotton wrap are lovely for in hospital and are a lightweight wrap to use during cuddle time and their generous proportions (120cm x 120cm) make them ideal for breast feeding when some privacy is required.  So Little So Loved swaddle.
Lactation cookies – what are these you might ask?  Well, they're a biscuit with ingredients designed to enhance a mother's milk production.  Mums of premature babies find these cookies extra valuable – their pumped breast milk is like liquid gold for their little one as they need all the nutrients and support they can possibly get as they grow outside of the womb.  We love Franjo's Lactation Cookies – they are delicious + nutritious for a new mum. Franjo's Kitchen
Baby Massage Oil – we all know how soothing a massage can be and babies are no different.  The touch of a mother or father, gently rubbing oil on little legs or arms (anywhere that doesn't have wires and IV's etc) can be so soothing to a little one. Aromababy is pure, natural and organic – perfect for newborns. Aromababy Massage Oil
Snacks for mum & dad – being in hospital for so long can be quite isolating and lonely.  Some home made baking or snacks are a really thoughtful gift but if you're not a baker and still want to treat someone, we LOVE Coco and Bean's chocolate brownies and Belgian chocolate cookies.  Guaranteed to make someone feel loved. Coco & Bean
Books – why?  Because the sound of your voice is so soothing and comforting to a little one who is going through a very stressful time. Some books to read out loud is the perfect gift.
NICU milestone cards – a gorgeous way for parents to document the many milestones a premie baby will reach during their time in the NICU.  We love these ones from Miracle Mumma.
Premie baby clothes – something for when they go home, or for their days in hospital when they're free of IV's and wires.  We love the clothes from Pure Baby Organic – they have a beautiful range of clothes for premature babies.
A bag of goodies for mum – after the stress of delivering a baby early and not having the dream of going home with them, a mum could do with some TLC from her family and friends. Think about what the mum loves and put together a gift for her.
Spoil the mum before bub comes home – a voucher of any kind is always a good idea – facial, massage, manicure etc.  Once the baby comes home there will be very little time for anything indulgent so doing it whilst the premie baby is still in hospital is the perfect time.
Happy shopping for the 'so little, so loved' baby.